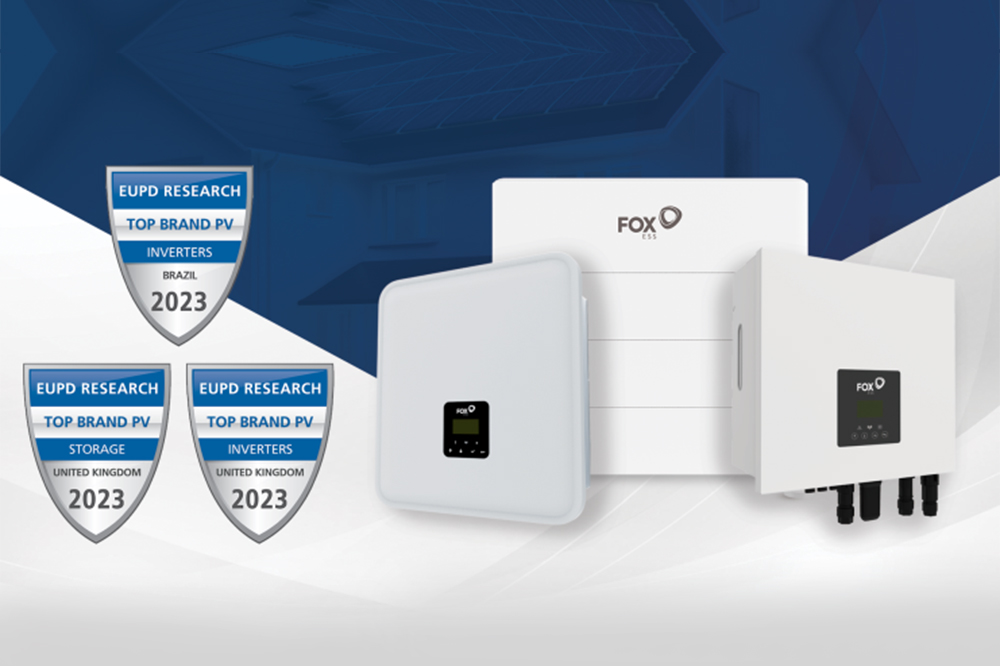 Fox ESS received multiple Top Brand PV seals from EUPD Research in 2023
Recently, Fox ESS has officially received several "2023 Top Brand PV" seals issued by EUPD Research,
an authoritative certification body in the photovoltaic industry. This recognition is based on Fox ESS's
exceptional performance in the UK and Brazil's emerging energy markets. It affirms the company's
strong customer reputation and significant brand influence in the energy storage and inverter industry.
As a recognized and authoritative certification body in the industry, EUPD Research has over 20 years
of experience in photovoltaic market analysis and end-user research. The organization is renowned for
its professionalism and rigorous approach.
During selecting the top photovoltaic brands in 2023, EUPD Research conducted in-depth research on
thousands of installers and end users in nearly 30 countries. Excellent product quality and a perfect customer service system have earned the trust and enthusiastic recommendation of many installers and
end users. Fox ESS has successfully been selected as one of the top brands in the photovoltaic inverter industry.
Fox ESS, a globally recognized brand specializing in household energy storage systems and photovoltaic
grid-connected inverters, has successfully expanded its market presence to major new energy markets worldwide. Since its establishment, the company has made significant progress worldwide, particularly
in Europe and the Americas, where it has established a strong presence. The market is one of the first
major international market areas to have been developed. After years of intensive cultivation, Fox ESS
has rapidly developed into a well-known local brand of household energy storage and distributed photovoltaic grid-connected inverters. This success can be attributed to their reliance on innovative technology,
high-quality products, and a comprehensive localized customer service system. Fox ESS has not only gained
the trust and affirmation of numerous customers but has also received recognition from various authoritative organizations.
"It is a great honor for us to be recognized by authoritative organizations and many customers, and to be
honored as a top photovoltaic brand. All of this is inseparable from the joint efforts and support of
upstream and downstream partners. In the future, we will continue to work with partners, making continuous
innovation and professional services, jointly providing global users with more advanced and excellent
products so that more people can enjoy green, sustainable, and clean energy". Lyren Liu, Chief Commercial
Officer of Fox ESS, said.
As the concept of green and sustainable development continues to gain global consensus, Fox ESS, a new
energy brand with worldwide business operations, is committed to advancing alongside the industry.
We are proud to have received recognition and affirmation from global users and authoritative
organizations. Our goal is to contribute to the growth and advancement of the global new energy
industry and to bring clean energy to thousands of households.